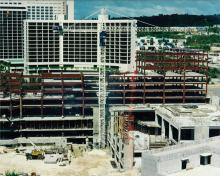 Rocky Mountain Precast has been manufacturing and erecting quality precast, prestressed and tilt up concrete products in Guam and the neighboring Mariana Islands, since 1989. During this time, we have completed over 2,000 successful projects from precast architectural cladding to complete structural framing for warehouses, commercial buildings, parking structures, and many others.

It is our goal to provide a wide range of services and products that meet and exceed the challenges that owners, developers, architects, engineers, and general contractors require by thinking outside the box for innovative solutions to their construction needs.

We offer a complete precast/prestressed and tilt up service from design and drafting, product manufacturing to delivery and erection.

Rocky Mountain Precast is a fully staffed and equipped fabricator / manufacturer of quality precast / prestressed concrete products. The precast plant started in 1989 producing prestressed planks for the Reef Hotel. Now 27 years later the precast plant has manufactured precast elements for thousands of projects and now produces a full line of structural and architectural precast products. The facility includes certified stressing equipment, quality control equipment, and a wide variety of steel forms, including flat tables for precast and prestressed walls and planks, as well as double tee, beam, column, pole, and bridge girder forms. Rocky Mountain Precast also offers a tilt-up division which specializes in large tilt-up panels. Tilt-up panels up to 60T can be fabricated and erected.
In an average year Rocky Mountain Precast manufactures over 1500 pieces of precast / prestressed concrete, pouring more than 8000cy of concrete. We manufactures over 300,000sqft of prestressed double tees, 300 precast / prestressed wall panels, hundreds of utility vaults, stairs, columns, beams and many other elements.  

Rocky Mountain Precast has produced a wide variety of products for various projects in our history on Guam. These projects include hotels, parking facilities, commercial buildings, military facilities, warehouses, residential homes, bridges, piles, and architectural concrete products. Recent projects include: P-109 Maintenance Hangar, BAMS Hangar, GIAA TSA Cladding, Guam Regional Medical Center, RHS Logistics Facility, RHS Heavy Repair Facility, Central Utility Plant, Emergent Facility, IHOP, Dehumidified Supply Warehouse, Okkodo High School, JFK High School, and Guam Home Center. Other large projects on Guam include: Outrigger Guam Resort, K-Mart, Cabras #3 and #4 Power Plants, Gayle and Teker Building, WRM Storage Facility, Royal Orchid Hotel, Tycom Networks Building, and Andersen Air Force Base Elementary and Middle School.

In addition to a full – service precast / prestressed concrete production facility, Rocky Mountain Precast provides engineering, drafting and erection for the design and placement of our products. All products are designed and manufactured under direct supervision of a Guam Licensed Professional Engineer. Rocky Mountain Precast also provides full quality control inspections and testing of our products in accordance with ACI (American Concrete Institute) and PCI (Precast / Prestressed Concrete Institute). Engineering staff, supervisors and quality control technicians are ACI and PCI certified at the highest level.
 
Safety at Rocky Mountain Precast is of utmost importance. We believe that safety comes before production and is the responsibility of all the staff starting with upper management.   

Rocky Mountain Precast is committed to offering a high level of professional service. We will produce quality precast and prestressed concrete products for your next successful project. Rocky Mountain Precast is "Proudly Building Guam."